Paul, TAS Fencing contractor
Fencing on Tassie's hilly terrain
After 12 years mining in Western Australia and some time working for a local agricultural contractor, Paul Chilcott wanted to be master of his own destiny. Being a good employer to his staff, keeping his clients happy and building fences that last are top of mind for his business. Part of his plan is using Murray fence wire.
Paul started up Ridgeline Fencing two and a half years ago, drawing on an earlier background on and off the fence line. From his Deloraine base along the Meander Valley in central north Tasmania there's high demand for wallaby fencing.
"I do a lot of rural fencing for dairy, beef, and sheep. Most are exclusion wire, two-wire electrics for dairy, and a little bit of domestic as well. We are using the Murray Stiff Stay 13/90/15."
"It's the wire people tend to choose, and the wire I use. The configuration of the Stiff Stay is more effective than similar products. It has two extra wires and closer gaps at the bottom. Most farmers want the apron – and we have more little wallabies around here so it keeps more of them out for sure."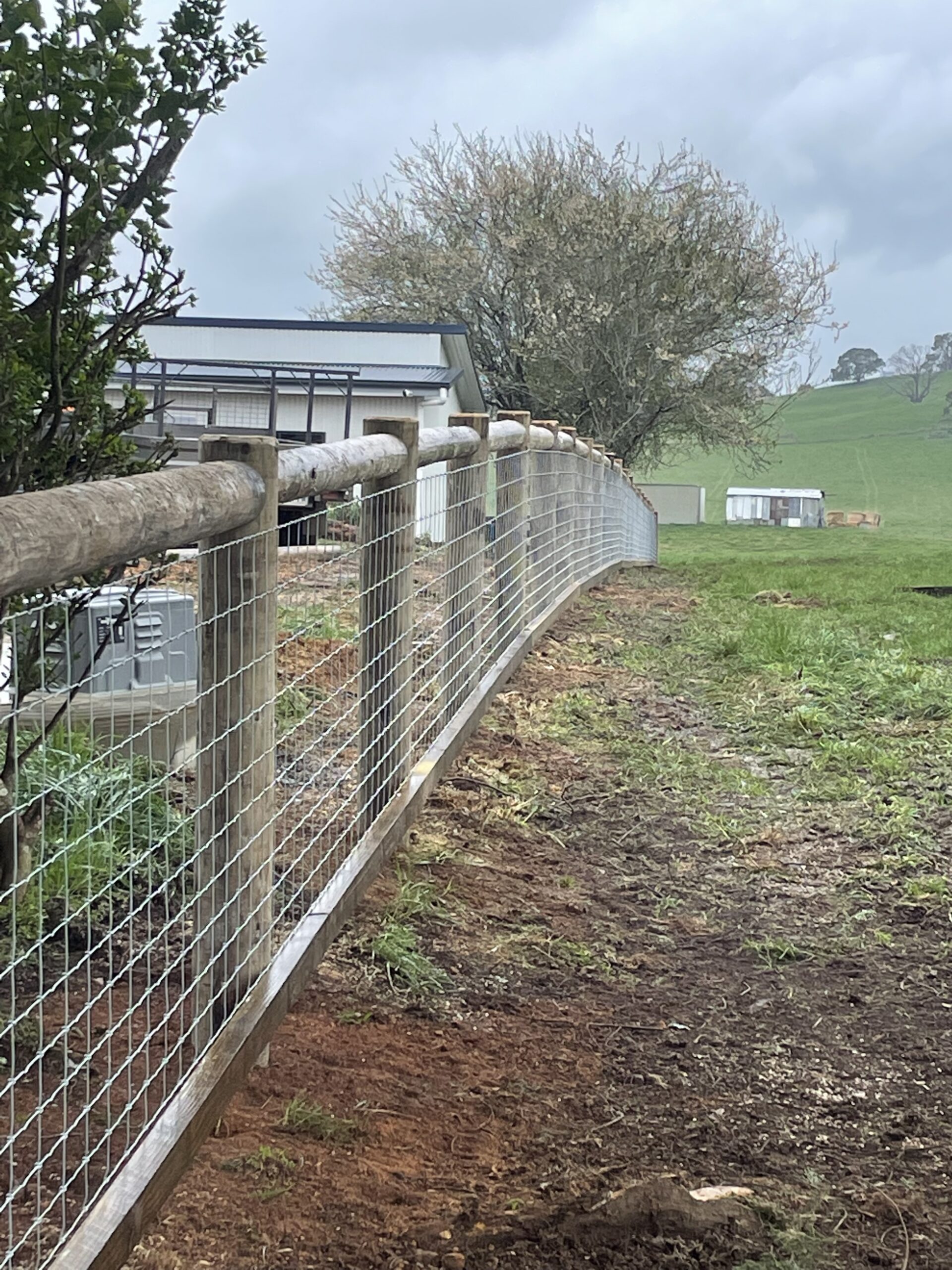 "Tasmania is hilly, short runs, short paddocks. It is very rare for us to go more than 200-300m without having a join in the fence. The smaller 100m rolls are easier for us to handle and we've got pretty quick at joining them all up now. If we have a 200 or 300m run it is no issue, we join the fence up and just run it through."
Paul and his crew usually do a box-type strainer assembly with timber posts anywhere between six to eight metres apart depending on the client's preference or if they are matching an existing fence. They use 50×50 treated pine droppers to strengthen the fence. Some of his customers like to put a steel post in between. Most of the time the soil conditions are good but rocky outcrops will see them plugging a steel post into small gaps in the rocks.
"When I do use Y posts, I buy Whites Rural steel Stockposts posts for the simple fact that they feel more solid in construction, and they've got a black bituminous tar coating. I am a bit old school that way, I think it's a better coating overall."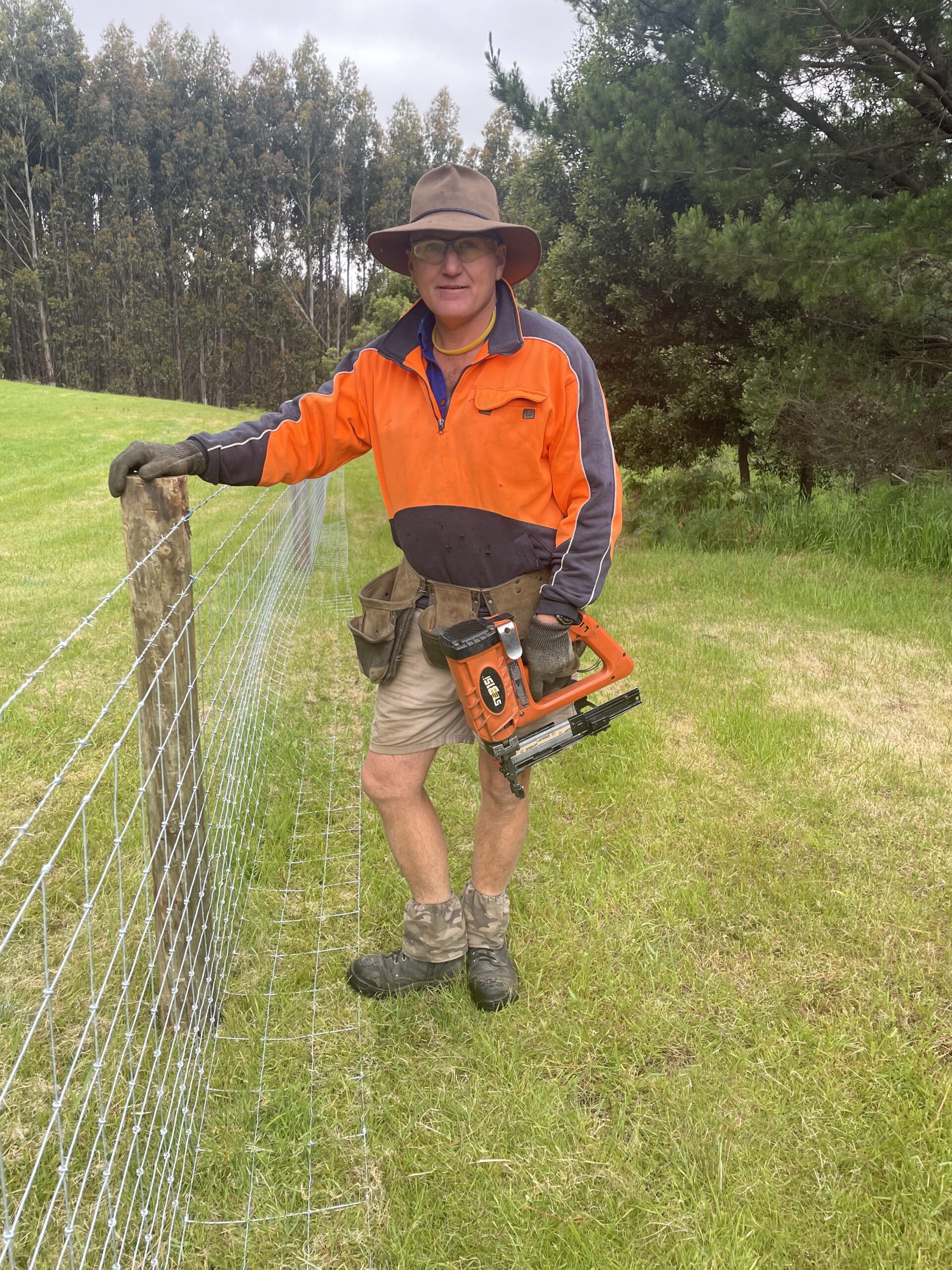 "I don't like the idea of getting called back to fix a fence. If I put a fence up, it stays up and there are no issues for the next 15-20 years. Murray Stiff Stay, the wallaby wire, lasts the distance, and with those extra wires it does its job better. If it's readily available and quality product I'm happy. The fact that Murray wire is Australian is a bonus."
Lately Paul has been doing a few domestic type fences on bigger blocks for people looking for a good-looking hybrid fence between lifestyle and rural. It's a new trend of ranch style post and rail fences incorporating the Murray Stiff Stay.
"A rail on the bottom, then the 13/90/15 without the apron in the middle, and a solid treated pine rail across the top to finish it off. They've come up really good."