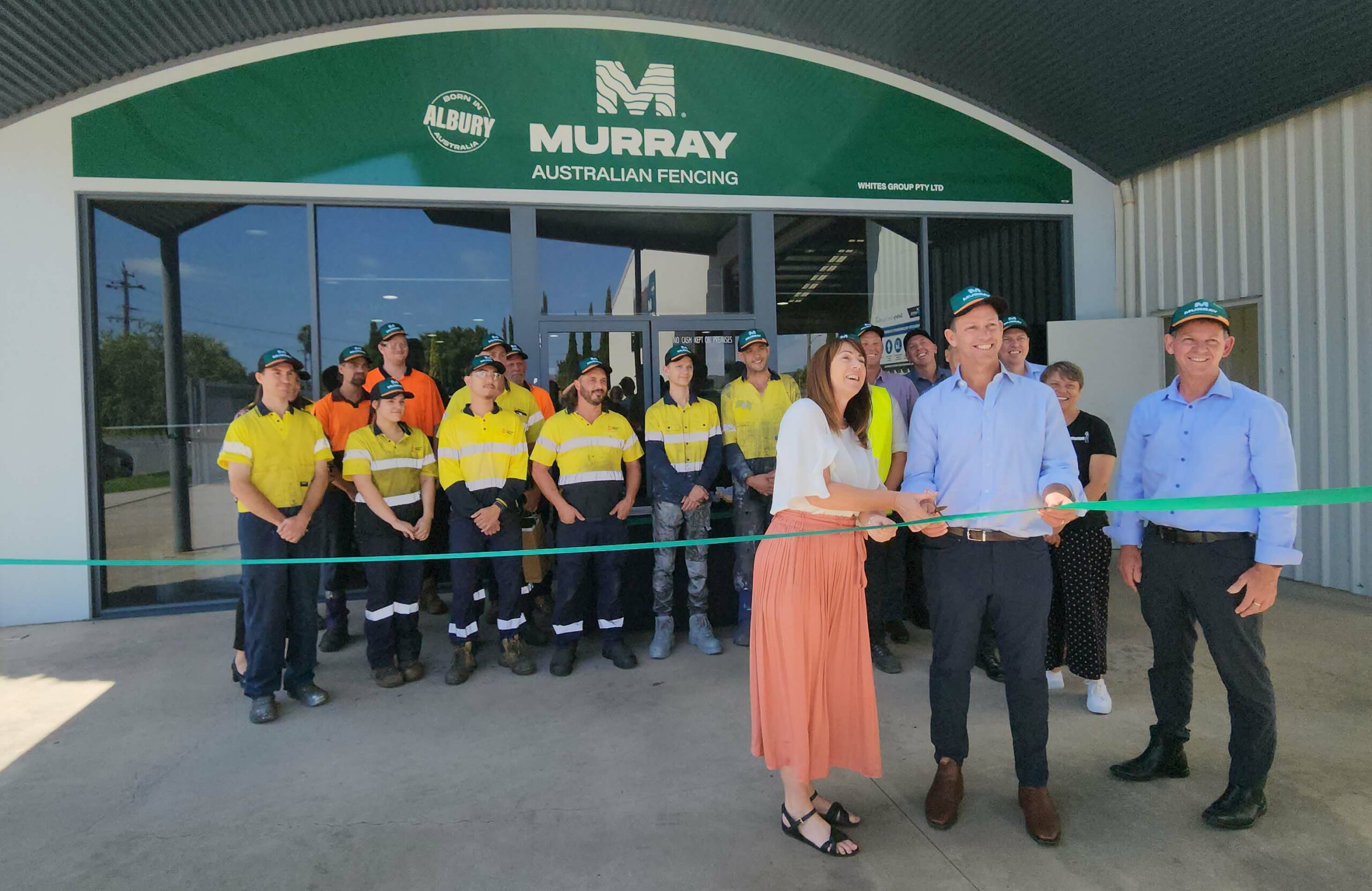 Murray celebrates the opening of its new Albury distribution centre
Our Australian fencing arm, Murray, celebrated the official opening of its new Murray distribution centre on the Albury manufacturing site on Monday 13th February.
The site now extends its overall footprint to 8,000 square metres, expanding the existing distribution network to seven centres, and enhancing service levels to the rural market nationally.
The Whites Executive Team and Albury site team were joined by Albury Mayor, Kylie King, and Giilangyaldhaanygalang Vision Keeper Ruth Davy to celebrate the occasion, with an official ribbon-cutting ceremony and a tour of the facility.
"We're so excited to officially launch and extend our footprint in Albury!  Australian manufacturing has always been important to us, particularly in Rural fencing", said Michael Kelly, CEO of Whites Group.
The Mayor of Albury, Kylie King, also shared her excitement about the expansion of the facility congratulating and thanking Whites, for investing in Albury. "It's been great to learn all about your Australian family-owned business and this manufacturing site, which has such a strong heritage and links back to Albury itself. And continuing to invest in jobs & opportunities, to put Albury on the map – it's a wonderful thing. And the Born in Albury logo makes me just that little bit more proud!"
The expansion of the facility reinforces the Murray commitment to Albury, working closely with the community in the region to produce local products for locals, Australia-wide!
"Construction has been fully completed by local builders and the new distribution centre provides direct supply for regional areas in the Murray region", says Tom Roberts, Head of Manufacturing.
The Murray Albury site is home to great product ranges such as Murray StiffStay, mesh, wire and the widest range of Australian-made gates, making Murray the real heavyweight in the Aussie fencing market.
Producing an impressive 420-450 tonnes of wire per month including 1.8km of Stiff Stay fencing per hour – that equates to 12 runs of the MCG football field every hour – the facility is driven by a continuous improvement culture.
The addition of the latest machines to increase the output of Murray fabricated fencing; and the introduction of notched welding to make Murray gates even stronger are just a couple of examples.
The impressive facility already boasts a sustainable energy source, operating on 200kw of solar power to deliver 75% of its daily power requirements, and will continue to invest in ongoing sustainable practices.
Murray continues to invest in its local community, creating jobs, supporting local businesses and always striving to provide greater value to farmers and fencing contractors in the rural market. And Murray is ready for the next phase of growth and progress for decades to come.